I'm getting ready for
Tat Days
. I'll be going there a week from Thursday - can't wait!
I've made up my kits. These are for my Summer Breeze bracelet pattern.
I'm cleaning up and making stacks and piles of stuff to take with me. And lists, making lots of lists. Will DH and the Stooges survive a few days without me?
I've been cooking too. This was my Cornbread Tamale Pie after the Stooges plus a girlfriend took a first pass. Five minutes later, the pan was completely empty.
Honestly, the cats are not helpful when I need assistance in cleaning. This is how Vader spends most of his time. Really, he's about worthless.
Cisco has become a serious attention hog, wanting constant petting from me. And he has some strange ways. Here he knows he's been caught with his entire head in Moe's size 13 (!!) sneakers, snuffling up the stench. Why does he like that awful smell? He's no help either.
(Don't you love Rhymes With Orange?)
DH has been getting tons and tons of places cut off of him at the dermatologist, basal cell carcinoma. Today's fun was on his ear, taking much of the inside and some of the back skin off. He had to get a skin graft from the back of his ear to replace all the cancerous skin - and that hurts a lot. Needless to say, he's been no help to me.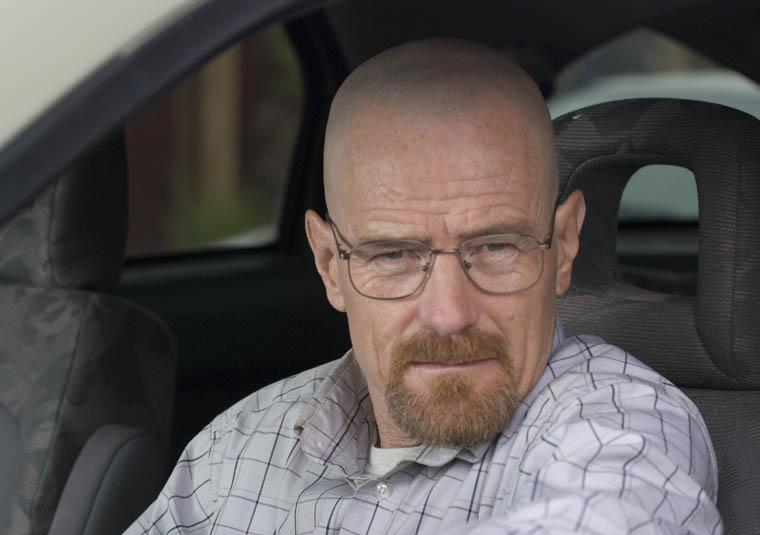 Heeeerrrrreee's Walt!
Larry caught a wild hair and shaved his head and part of his beard. Now he looks like a young version of Walt, from Breaking Bad. (Or the Unabomber.)
BTW - here is Larry's latest creation - a jazz bar for the toys. I think one of the toys needs to be passed out on a table. See the couple dancing on the left? Sweet.
As you may be able to tell, Larry is
not
helping me get ready for Tat Days. None of the Stooges are. Why did I have them? I forget.
But - I'm putting those lads to work cleaning, as we have company coming this Monday. I'll tell you about my company
after
Tat Days - you'll be too jealous if I tell you now.
I better get back to packing. BTW - don't forget to enter my
400th post giveaway
!
Hope I see you at Tat Days!